Two-screw pipe clamp with wood screw and rubber lining
DESCRIPTION:
The clamps can be used will all types of pipelines (heat, water, gas) where fast, quality and cheap wall anchorage of tubes is needed.
Plug is not included. For mounting recommend using dowel type H or TX.
Advantages:
Easy mounting and dismounting of pipes.
Easy mounting and dismounting of the clamp.
Possibility of a multiple use of the clamp during the wall plug change.
Pipe clamps without a closing device and tightening screw can be used as a mounting accessory (pipe support).
Technical data of pipe clamp:
Technical data of rubber lining:
Use within temperature range:
Hardness of rubber lining: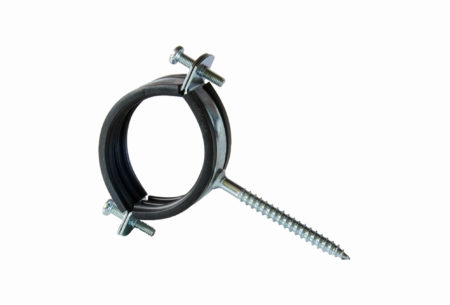 Fields:
Steam pipes and chimneys (combined with a silicone profile)
| | | | | | | | | | | | | |
| --- | --- | --- | --- | --- | --- | --- | --- | --- | --- | --- | --- | --- |
| Supply No.  | Name  | D | D | DN  | E | H | K | L | S | T | V | Package |
| | | (mm) | (") | | (mm) | (mm) | (mm) | (mm) | Screw | (mm) | Wood screw | (pcs) |
| 16503240 | Pipe clamp with wood screw and rubber 32–40 mm | 32–40 | 1″ | 25 | 98 | 124 | 20 | 80 | 5 x 25mm | 1,2 | 7 x 70 mm | 100 |
| 16505063 | Pipe clamp with wood screw and rubber 50–63 mm | 50–63 | 2″ | 50 | 110 | 147 | 20 | 104 | 5 x 25mm | 1,2 | 7 x 70 mm | 50 |