Pipe clamp with wood screw, without rubber lining
DESCRIPTION:
The clamps can be used will all types of pipelines (heat, water, gas) where fast, quality and cheap wall anchorage of tubes is needed.
Advantages:
Easy mounting and dismounting of pipes.
Easy mounting and dismounting of the clamp.
Possibility of a multiple use of the clamp during the wall plug change.
Pipe clamps without a closing device and tightening screw can be used as a mounting accessory (pipe support).
Components:
Pressed steel pipe clamp with a welded-on wood screw and coating.
Pressed steel closing device of the pipe clamp with coating.
Technical data of pipe clamp:
from 3/8″ to 1/2″ – 0,2 kN
from 3/4″ to 2″ – 0,33 kN
TZUS:No.204/C5/2013/070-045127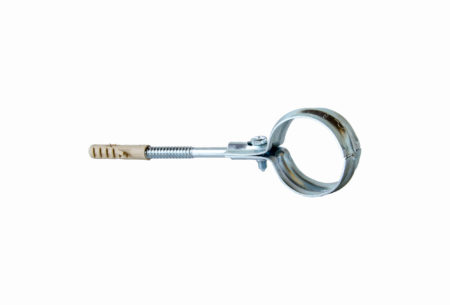 | | | | | | | | | | | | | |
| --- | --- | --- | --- | --- | --- | --- | --- | --- | --- | --- | --- | --- |
| Supply No.  | Name  | D | D | DN  | H | K | L | L1 | S | T | V | Package |
| | | (mm) | (inch) | | Wall plug | (mm) | (mm) | (mm) | Screw | (mm) | Wood screw | (pcs) |
| 16000025 | Pipe clamp 3/8″ with wood screw, w/o rubber lining | 18 | 3/8" | 10 | H10 | 20 | 116 | 58 | M6 x 16 | 1,5 | 6 x 70 | 100 |
| 16000050 | Pipe clamp 1/2″ with wood screw, w/o rubber lining | 21,8 | 1/2" | 15 | H10 | 20 | 118 | 62,5 | M6 x 16 | 1,5 | 6 x 70 | 100 |
| 16000075 | Pipe clamp 3/4″ with wood screw, w/o rubber lining | 27,3 | 3/4" | 20 | H10 | 20 | 126 | 73 | M6 x 16 | 1,5 | 6 x 70 | 100 |
| 16000100 | Pipe clamp 1″ with wood screw, w/o rubber lining | 34,2 | 1" | 25 | H10 | 20 | 131 | 75 | M6 x 16 | 1,5 | 6 x 70 | 100 |
| 16000125 | Pipe clamp 5/4″ with wood screw, w/o rubber lining | 42,9 | 5/4" | 32 | H10 | 20 | 160 | 84 | M6 x 16 | 1,5 | 8 x 90 | 50 |
| 16000150 | Pipe clamp 6/4″ with wood screw, w/o rubber lining | 48,8 | 6/4" | 40 | H12 | 20 | 168 | 86 | M6 x 16 | 1,5 | 8 x 90 | 50 |
| 16000200 | Pipe clamp 2″ with wood screw, w/o rubber lining | 60,3 | 2" | 50 | H10 | 20 | 160 | 103 | M6 x 16 | 1,5 | 6 x 70 | 50 |