Cpr plastic pipe clip with a stirrup for copper pipes and cable distribution systems
DESCRIPTION:
Plastic pipe clips type Cpr with stirrup (for diameter from 16 mm to 63 mm) are made from polypropylene (PP) and specifically designed for fixing of copper pipe.
Thanks to the universal central hole is possible fixing with knock-in wall plug or other standart plastic wall plug.
Stirrup ensure perfect fixation of pipe and prevent ejection of pipe from plastic clip.
Plastic pipe clips can be for example anchored on plastered walls, concrete panels and other cladding materials.
Technical data:
Use within temperature range:
Installation temperature: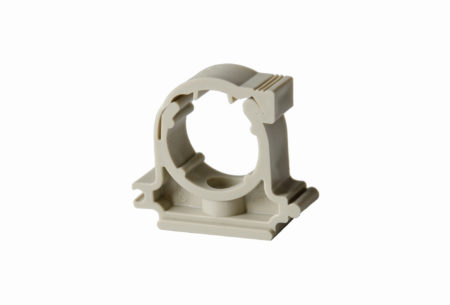 | | | | | | | | | |
| --- | --- | --- | --- | --- | --- | --- | --- | --- |
| Supply No.  | Name  | A  | B  | C  | D  | D1 | D2 | Package |
| | | (mm) | (mm) | (mm) | (mm) | (mm) | (mm) | (pcs) |
| 13205016 | Plastic pipe clip with stirrup Cpr 16 | 40,0 | 13 | 21,0 | 17 | 16 | 6 | 50 |
| 13205020 | Plastic pipe clip with stirrup Cpr 20 | 45,5 | 13 | 22,5 | 17 | 20 | 6 | 50 |
| 13205025 | Plastic pipe clip with stirrup Cpr 25 | 50,5 | 13 | 25,0 | 17 | 25 | 6 | 50 |
| 13205032 | Plastic pipe clip with stirrup Cpr 32 | 57,0 | 13 | 28,5 | 17 | 32 | 6 | 50 |
| 13205040 | Plastic pipe clip with stirrup Cpr 40 | 70,0 | 12 | 32,0 | 17 | 40 | 6 | 40 |
| 13205050 | Plastic pipe clip with stirrup Cpr 50 | 80,0 | 12 | 37,0 | 17 | 50 | 6 | 25 |
| 13205063 | Plastic pipe clip with stirrup Cpr 63 | 96,0 | 12 | 43,5 | 17 | 63 | 6 | 25 |