Hose clamp W1; W2; W4
DESCRIPTION:
Hose clamp with screw is one of the most commonly used clips which withstand heavy loads that guarantees absolutely sealed joint. Pressed belt with 9 mm width have higher lined edges to prevent damage of hose and exactly placing screw in welded house providing high strenght of connection.
W1:    Galvanized hose clamps for no-corrosion environment.
W2:    Stainless hose clamps for corrosion environment. Belt and house from stainless steel and zinc plated screw.
W4:    Stainless hose clamps for high corrosion environment. Belt, house and screw from stainless steel according to ČSN 41 7240.
Technical data:
W2 – stainless chrome steel
W4 – stainless chrome nickel steel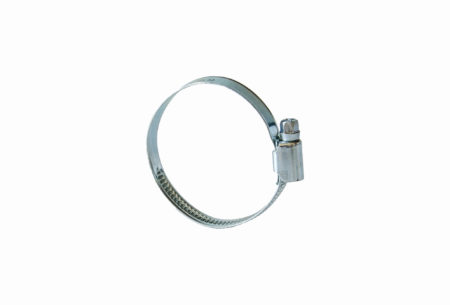 | | | | | | | | | |
| --- | --- | --- | --- | --- | --- | --- | --- | --- |
| Supply No.  | Supply No.  | Supply No.  | Name  | D | T | Head of screw | Groove (cross/flat) | Package |
| W1 | W2 | W4 |   | (mm) | (mm) | | | (pcs) |
| 90000812 | 90100812 | 90200812 | Hose clamp 9 mm 8–12 | 8 -12 | 9 | SW7 | PZ 2/6,5 | 25 |
| 90001016 | 90101016 | 90201016 | Hose clamp 9 mm 10–16 | 10 – 16 | 9 | SW7 | PZ 2/6,5 | 25 |
| 90001220 | 90101220 | 90201220 | Hose clamp 9 mm 12–20 | 12 – 20 | 9 | SW7 | PZ 2/6,5 | 25 |
| 90001625 | 90101625 | 90201625 | Hose clamp 9 mm 16–25 | 16 – 25 | 9 | SW7 | PZ 2/6,5 | 25 |
| 90002032 | 90102032 | 90202032 | Hose clamp 9 mm 20–32 | 20 – 32 | 9 | SW7 | PZ 2/6,5 | 25 |
| 90002540 | 90102540 | 90202540 | Hose clamp 9 mm 25–40 | 25 – 40 | 9 | SW7 | PZ 2/6,5 | 25 |
| 90003250 | 90103250 | 90203250 | Hose clamp 9 mm 32–50 | 32 – 50 | 9 | SW7 | PZ 2/6,5 | 25 |
| 90004060 | 90104060 | 90204060 | Hose clamp 9 mm 40–60 | 40 – 60 | 9 | SW7 | PZ 2/6,5 | 25 |
| 90005070 | 90105070 | 90205070 | Hose clamp 9 mm 50–70 | 50 – 70 | 9 | SW7 | PZ 2/6,5 | 25 |
| 90006080 | 90106080 | 90206080 | Hose clamp 9 mm 60–80 | 60 – 80 | 9 | SW7 | PZ 2/6,5 | 25 |
| 90007090 | 90107090 | 90207090 | Hose clamp 9 mm 70–90 | 70 – 90 | 9 | SW7 | PZ 2/6,5 | 10 |
| 90008010 | 90108010 | 90208010 | Hose clamp 9 mm 80–100 | 80 -100 | 9 | SW7 | PZ 2/6,5 | 10 |
| 90009011 | 90109011 | 90209011 | Hose clamp 9 mm 90–110 | 90 – 110 | 9 | SW7 | PZ 2/6,5 | 10 |
| 90010012 | 90110012 | 90210012 | Hose clamp 9 mm 100–120 | 100 – 120 | 9 | SW7 | PZ 2/6,5 | 10 |
| 90011013 | 90111013 | 90211013 | Hose clamp 9 mm 110–130 | 110 – 130 | 9 | SW7 | PZ 2/6,5 | 10 |
| 90012014 | 90112014 | 90212014 | Hose clamp 9 mm 120–140 | 120 – 140 | 9 | SW7 | PZ 2/6,5 | 10 |
| 90013015 | 90113015 | 90213015 | Hose clamp 9 mm 130–150 | 130 – 150 | 9 | SW7 | PZ 2/6,5 | 10 |
| 90014016 | 90114016 | 90214016 | Hose clamp 9 mm 140–160 | 140 – 160 | 9 | SW7 | PZ 2/6,5 | 10 |
| 90015017 | 90115017 | 90215017 | Hose clamp 9 mm 150–170 | 150 – 170 | 9 | SW7 | PZ 2/6,5 | 10 |